When: この本を読んで「夜型生活」にしました【12時まで寝る】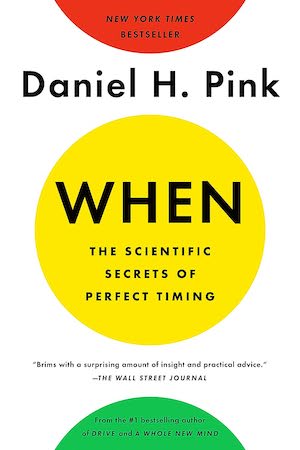 この本の概要
Daniel H. Pink, the #1 bestselling author of Drive and To Sell Is Human, unlocks the scientific secrets to good timing to help you flourish at work, at school, and at home.
読んでみて思ったこと
この本を読んで「夜型にしよう」と決意しました。朝方と夜型を確認する方法は下記です。
1) What time do you usually go to sleep?
2) What time do you usually wake up?
3) What is the middle of those two times? (ex: if you fall asleep at 11:30 p.m. and wake up at 7:30 a.m., your midpoint is 3:30 a.m.)
下記のグラフで判断できます。僕は夜型でした。無理しない生活リズムに変更しました。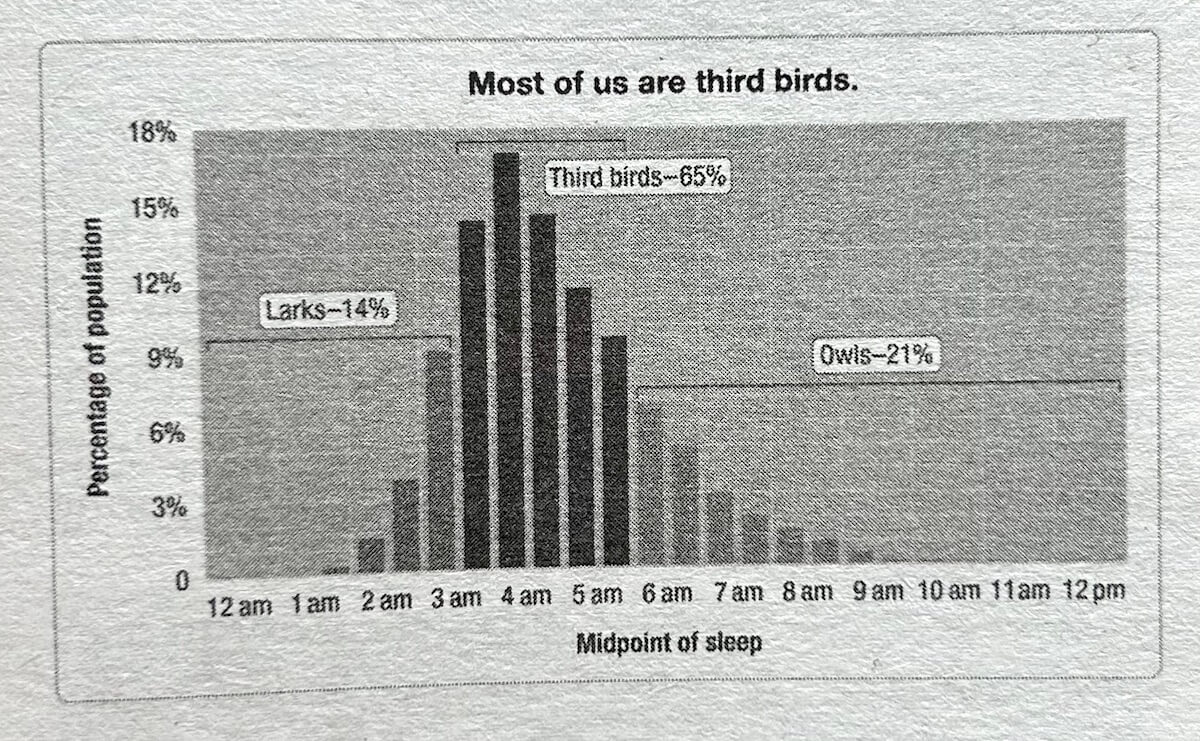 レビューは以上です。下記に引用も掲載します。
僕のハイライト
頭を柔軟に使う問題は、疲れている方が効率的に解ける
Some have called this phenomenon the "inspiration paradox" ー the idea that "innovation and creativity are greatest when we are not at our best.
テスト直前に「遊び」をすると、点数が上がる
When the Danish students had a twenty- to thirty-minute break "to eat, play, and chat" before a test, their scores did not decline. In fact, they increased. That is, scores go down after noon. But scores go up by a higher amount after breaks.
心理学者が「39歳」でマラソンに挑戦する理由 = 終わりが重要
Four people in four different professions living in four different parts of the world, all united by the common quest to run 26.2 miles. But something else links these runners and legions of other first-time marathoners.
Red Hong Yi ran her first marathon when she was twenty-nine years old. Jeremy Medding ran his when he was thirty-nine. Cindy Bishop ran her first marathon at age forty-nine, Andy Morozovsky at age fifty-nine.
All four of them were what social psychologists Adam Alter and Hal Hershfield call "9-enders," people in the last year of a life decade. They each pushed themselves to do something at ages twenty-nine, thirty-nine, forty-nine, and fifty-nine that they didn't do, didn't even consider, at ages twenty-eight, thirty-eight, forty-eight, and fifty-eight. Reaching the end of a decade somehow rattled their thinking and redirected their actions. Endings have that effect.
---
📝 無料メルマガで発信中:過去の僕は「ブログ発信で5億円」を稼ぎました。次は「30億円」を目指します。挑戦しつつ、裏側の思考を「当メルマガ」で発信します。不満足なら1秒で解約できます。無料登録は「こちら」です。