The 48 Laws Of Power: 稼ぐための「サイコパス性」を取り戻せる本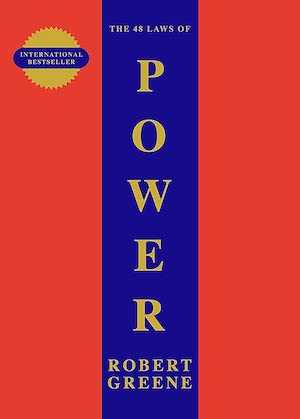 稼ぐための「サイコパス性」を思い出せる本。人間心理を学ぶことで、世界を有利に動かせます。本から引用しつつ、いくつかの法則を書きます。
» The 48 Laws Of Power (Robert Greene)
法則①:他人に「無料」で働いてもらうコツ
頼むのではなく、相手の「興味関心」に訴求する。
When asking for help, appeal to people's self-interest, never to their mercy or gratitude
法則②:他人に労働させつつ、自分が信頼を得る
大半のフリーランスは「この逆」をやっている。自分が作業したとしても、制作物は相手のモノ。これだと収入が増えづらいです。
This is the essence of the Law: Learn to get others to do the work for you while you take the credit, and you appear to be of godlike strength and power. If you think it important to do all the work yourself, you will never get far. Find people with the skills and creativity you lack. Either hire them, while putting your own name on top of theirs, or find a way to take their work and make it your own.
法則③:影響力は、後から何にでも換金できる
例えば「へずまりゅう氏」が該当します。迷惑系YouTuberとして名乗りをあげ、影響力を手にしました。多くの人は彼を馬鹿にしますが、突き抜けたことも事実。影響力は、後から何にでも換金できます。強力です。
At the beginning of your rise to the top, then, spend all your energy on attracting attention. Most important: The quality of the attention is irrelevant.
僕のハイライト
ナポレオンは最大の敵をパートナーにした
He needed a partner, a confederate -what friend could he trust in such a project? He chose Joseph Fouche, head of the secret police, his most hated enemy, a man who had even tried to have him assassinated.
He knew that his relationship with Fouche would be based on mutual self-interest, and would not be contaminated by personal feeling.
図書館を作り、節税しつつ資産を増やす
The art dealer Joseph Duveen was once confronted with a terrible prob-lem. The millionaires who had paid so dearly for Duveen's paintings were running out of wall space, and with inheritance taxes getting ever higher, it seemed unlikely that they would keep buying. The solution was the National Gallery of Art in Washington, D.C., which Duveen helped create in 1937 by getting Andrew Mellon to donate his collection to it. The National Gallery was the perfect front for Duveen. In one gesture, his clients avoided taxes, cleared wall space for new purchases, and reduced the number of paintings on the market, maintaining the upward pressure on their prices.
不要に喋りすぎると、信頼が崩れる
His battlefield accomplishments showed him as a man of great bravery. Since the citizens knew little about him, all kinds of legends became attached to his name. The moment he appeared before the Roman citizens, however, and spoke his mind, all that grandeur and mystery vanished. He bragged and blustered like a common soldier. He insulted and slandered people, as if he felt threatened and insecure. Suddenly he was not at all what the people had imagined.
---
📝 無料メルマガで発信中:過去の僕は「ブログ発信で5億円」を稼ぎました。次は「30億円」を目指します。挑戦しつつ、裏側の思考を「当メルマガ」で発信します。不満足なら1秒で解約できます。無料登録は「こちら」です。